17.09.2019 | LÜTZE unmanaged switches with UL approval
Efficient Fast-Ethernet with UL-approval
DThe automation specialist LÜTZE, Weinstadt, has expanded its modular casing system LCOS to include two UL-Listed, unmanaged switches with four or eight ports. In addition to their use in the LCOS function carrier, the switches are also designed for stand-alone operation.
The UL-certified LCOS unmanaged switches by LÜTZE are perfectly designed for use in industrial Ethernet networks. They are ideal for communication in standard Ethernet environments with 10/100 Mbit/s or for use in fieldbus systems such as Profinet-IO (RT) or EtherCAT. In addition to durability, the units also offer more performance, such as QoS (Quality of Services) or Auto Negotiation and Broadcast Storm Protection. Thanks to their modular design, the units can be supplied with power in the LCOS system either by means of the existing 3-pin connectors or via the energy bus. The switches can also be used in building automation systems due to the fact that they can run on AC voltage. The extended application temperature range lies between –25°C and +70°C.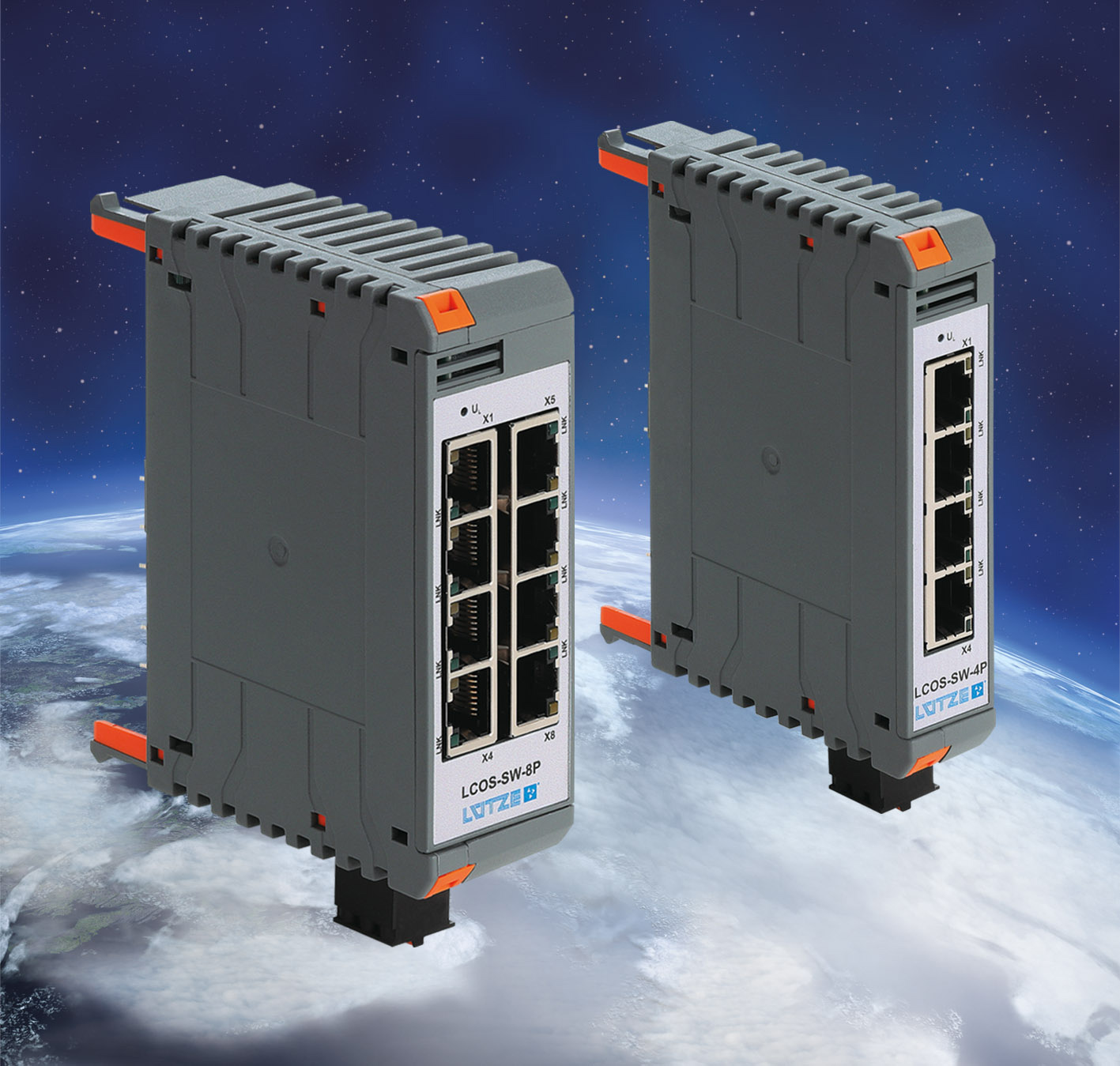 Fig.: UL-certified LCOS unmanaged switches by LÜTZE: 
Reliable global use in industrial Ethernet networks
The switches are integrated into the overall LCOS system via the LÜTZE Communication System. The unmanaged LCOS-Switch meets the UL-Norms (UL-Listing) in accordance with the following standards:
UL 61010-1, 3rd Edition May 11, 2012 Revised April 29, 2016, CAN/CSA -C22
No. 61010-1-12, 3rd Edition May 11, 2012 Revised April 29, 2016
No. 61010-2-201, Edition 1 Revision Date 2017/02/20 CSA C22.2
No. 61010-2-201:14, Edition 1 Issue Date 2014/02/01
About the LCOS housing system.
Open, modular, universal.
The LCOS by LÜTZE is a IP20 housing system that can be used for both single housings or as a stand-alone solution (single module). LCOS can also be expanded into a complete and modular input/output system via the tool-free connection of data or energy modules. The LCOS electronic housing is based on a device carrier that holds the separate housings or the plug-in function units. The patented four-wire bus allows the field side to be supplied with up to 16 current per conductor, which is A rated. This allows for the creation of three-phase functions with an operating voltage of 500 V or also 24 V applications with a current load of DC 64 A. The LÜTZE electronic housing LCOS has UL-approval and can therefore be used worldwide.
---
Characters incl. spaces: 2.619