14.10.2020 | LÜTZE – Cat. 6A module carrier | Art. Nr. 490209
High-speed transmission module for fast installation
The automation specialist LÜTZE, Weinstadt, presents an optimized Cat. 6A module carrier that stands out because it is safe and easy to install.
This new module carrier incorporates the practical experience and ideas of the users to produce a part that is very easy to handle. The new LÜTZE Cat. 6A module carriers allow data transmission points between the field and control cabinet to be performed even more quickly and safely. Core benefits of the module carrier include the greatly simplified wiring process that does not require special tools. Pluggable PROFINET or Ethernet connections can be created in just a few simple steps and 30 % more quickly than when conventional module carriers are used. It is possible to create secure data connections quickly and easily, even in poor ambient conditions, e.g. for installations in the field or in tight spaces in control cabinets. Also, the power supply can also be provided via Power over Ethernet Plus (PoE+).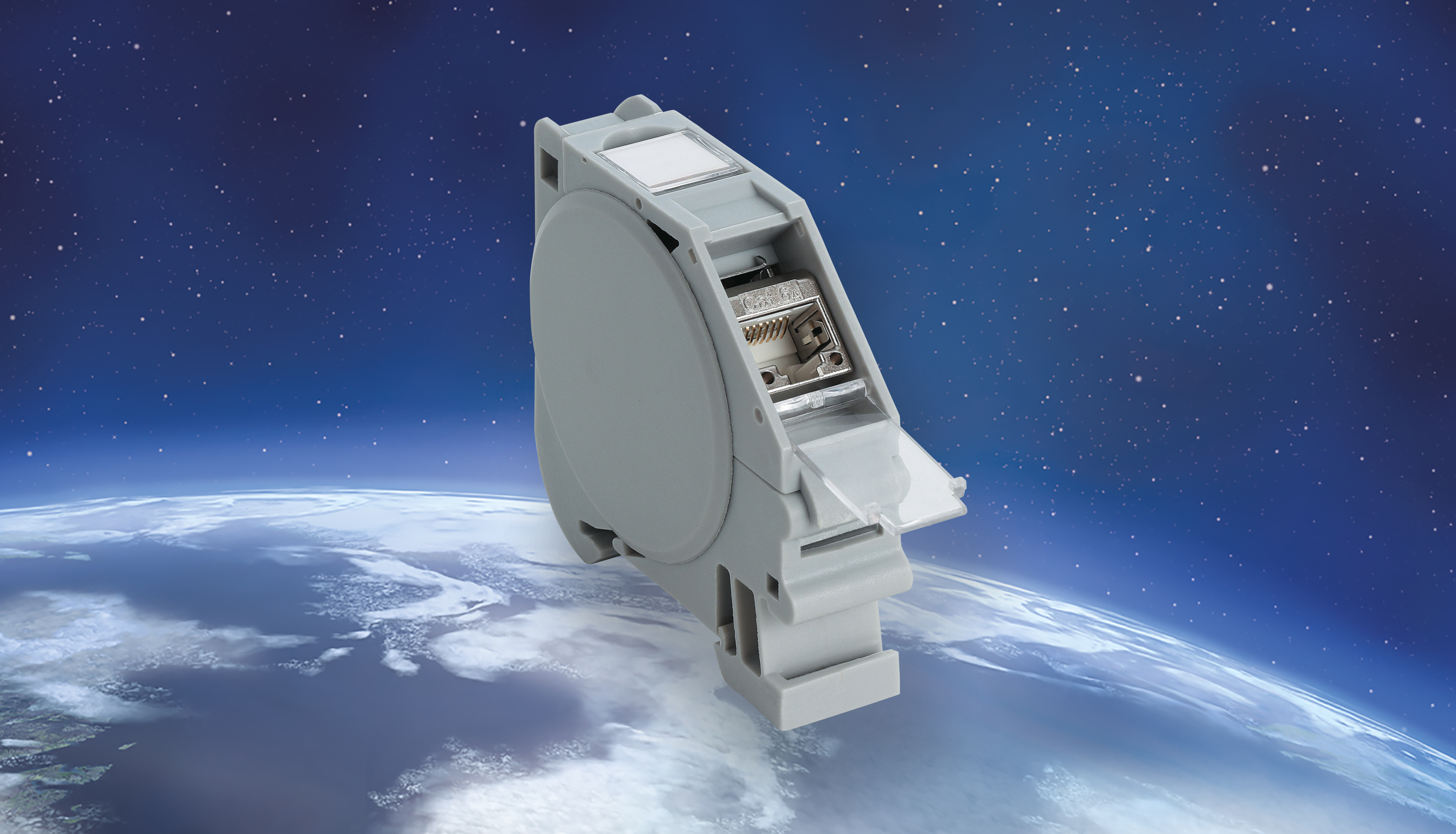 Fig.: The new Cat. 6A module holder with RJ45 female by LÜTZE
is prefabricated in just a few simple steps.
The 8-pole module carrier is tested acc. to IEC 60512-24-1200 re-embedded and is 10 Gigabit Ethernet-conform acc. to IEEE 802.3an. Conductor gauges of AWG 26/1 to AWG 22/1 and also AWG 27/7 to AWG 22/7 can be connected. Even fewer flexible cables with a diameter of up to 9 mm can be connected securely with very good shield termination and optimized permanent strain relief. The RJ45 bushing socket in the standardized Keystone-Snap-In format has an additional potential connection designed as a functional earth acc. to DIN 46342-1. The gold-plated contacts can be loaded with a maximum rated current of 1 A per contact and are designed for up to 750 insertion cycles. The LÜTZE module carrier meets flammability rating V0 as per UL 94 and can be used in a work temperature range of - 40 °C to + 70 °C. When disconnected, the transparent folding lid prevents soiling of the contacts on the RJ45 bushing socket according to protection rating IP 20. Due to the very narrow housing width of 18 mm (without side covers), several module carriers can be placed in next to one another on a TS 35 mounting rail to save space. The delivery scope includes a white ID plate in the dimensions 13 x 13 mm.

The LÜTZE module holder satisfies the industrial requirements of Class EA acc. to ISO / IEC 11801:2002 and EN 50173-1.
---
Characters: 2,668 incl. spaces from bottom of page