25.05.2022 | LÜTZE SYSTEM AirSTREAM
AirSTREAM and CrossBoard®: new possibilities for energy distribution in control cabinets
The automation specialist LÜTZE, Weinstadt, presents Wöhner and its CrossBoard® as a new partner for the open System AirSTREAM.

The company Wöhner GmbH & Co. KG and the CrossBoard® allow central energy distribution on the AirSTREAM wiring frame. The CrossBoard® by Wöhner is a modular basic busbar system that allows fast and easy energy distribution up to 160 A. In conjunction with the power input on the rear side, the combination of the AirSTREAM and CrossBoard® opens up new possibilities for sustainable and efficient installation and wiring. The AirSTREAM and CrossBoard® ensures optimum use of the space in the control cabinet, thereby allowing space to be saved. The CrossBoard® lengths are compatible with the standard cabinet widths and AirSTREAM wiring frames. For instance, 500, 700, 900 and 1100 CrossBoard® can be integrated easily into the AirSTREAM wiring system with the SR032 mounting rail. Components can be fitted immediately once the CrossBoard® has been mounted. The components are simply clicked onto the CrossBoard without tools forming direct contacts. The integrated reverse polarity protection prevents errors during installation, and the touch protection facilitates working on live parts.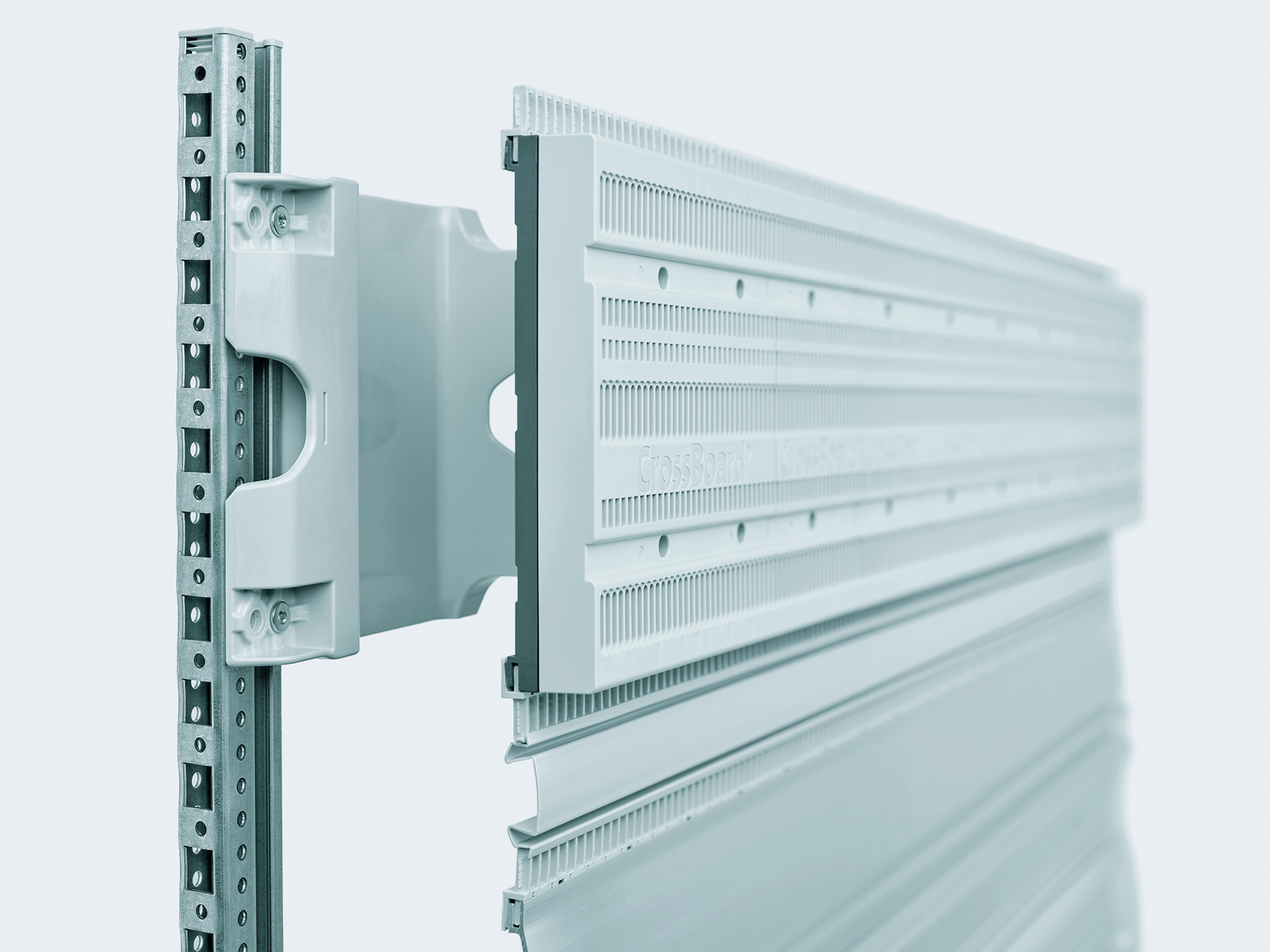 Fig.: The CrossBoard® can be integrated easily into the AirSTREAM wiring system with the SR032 mounting rail.
Wöhner's CrossBoard® presents an Out-Of-The-Box solution that reflects the modular design of the AirSTREAM system. The CrossBoard® is integrated with a bracket developed by Wöhner. A variety of AirSTREAM accessories including wiring profiles, wire holders, AirBLADES etc., can be directly mounted on the CrossBoard®. Combs can be fitted on the CrossBoard® to guarantee a cover between the bars and the CrossBoard®. At the customer's request, LÜTZE can produce and deliver AirSTREAM frames that have been preconfigured with one or several CrossBoard® in the standard lengths.
Wöhner's CEO Philipp Steinberger emphasizes the partnership between Wöhner and LÜTZE: "The combination of the Lütze AirSTREAM and Wöhner CrossBoard® offers customers a space-saving and thermally optimized system solution".
About the System AirSTREAM
Over the past few years, LÜTZE AirSTREAM wiring frames have almost become the standard for thermally optimized control cabinets. It is a visionary system that requires much less cooling in the control cabinet, or in some cases, no additional cooling at all. Since 2022, LÜTZE has been working on consistently turning the AirSTREAM wiring system into an open system platform: the System AirSTREAM. LÜTZE partner companies can now develop and market their own customized configurations based on the AirSTREAM platform for new or enhanced application possibilities. In other words: "Share the AirSTREAM vision!" The AirSTREAM system architecture offers users across the globe significant advantages for sustainable control cabinet solutions through to solutions for Industry 4.0.
Characters: 3,051 incl. spaces from bottom of page