29.11.2023
Control cabinet ventilation in the smallest space 
Automation specialist LÜTZE, based in Weinstadt, Germany is expanding its fan portfolio for the energy-efficient AirSTREAM wiring system, with the addition of the AirBLOWER Compact, designed for use in small control cabinets and switchgear enclosures. 
The latest addition to the LÜTZE AirSTREAM product family, the AirBLOWER Compact, enables the excellent airflow and heat dissipation properties of the AirSTREAM wiring system to be fully utilized even in small control cabinets and switchgear enclosures. The LÜTZE AirBLOWER Compact allows for targeted and demand-based ventilation of potential hotspots. It efficiently dissipates heat, positively influences air circulation, and homogenizes the climate within the control cabinet. In addition to the new AirBLOWER Compact, LÜTZE continues to offer the AirBLOWER fan bank and the AirBLADES for precise airflow management within the control cabinet. The AirSTREAM system enables the performance of the climate control devices to be adjusted as needed, and in most cases in a sustainable manner.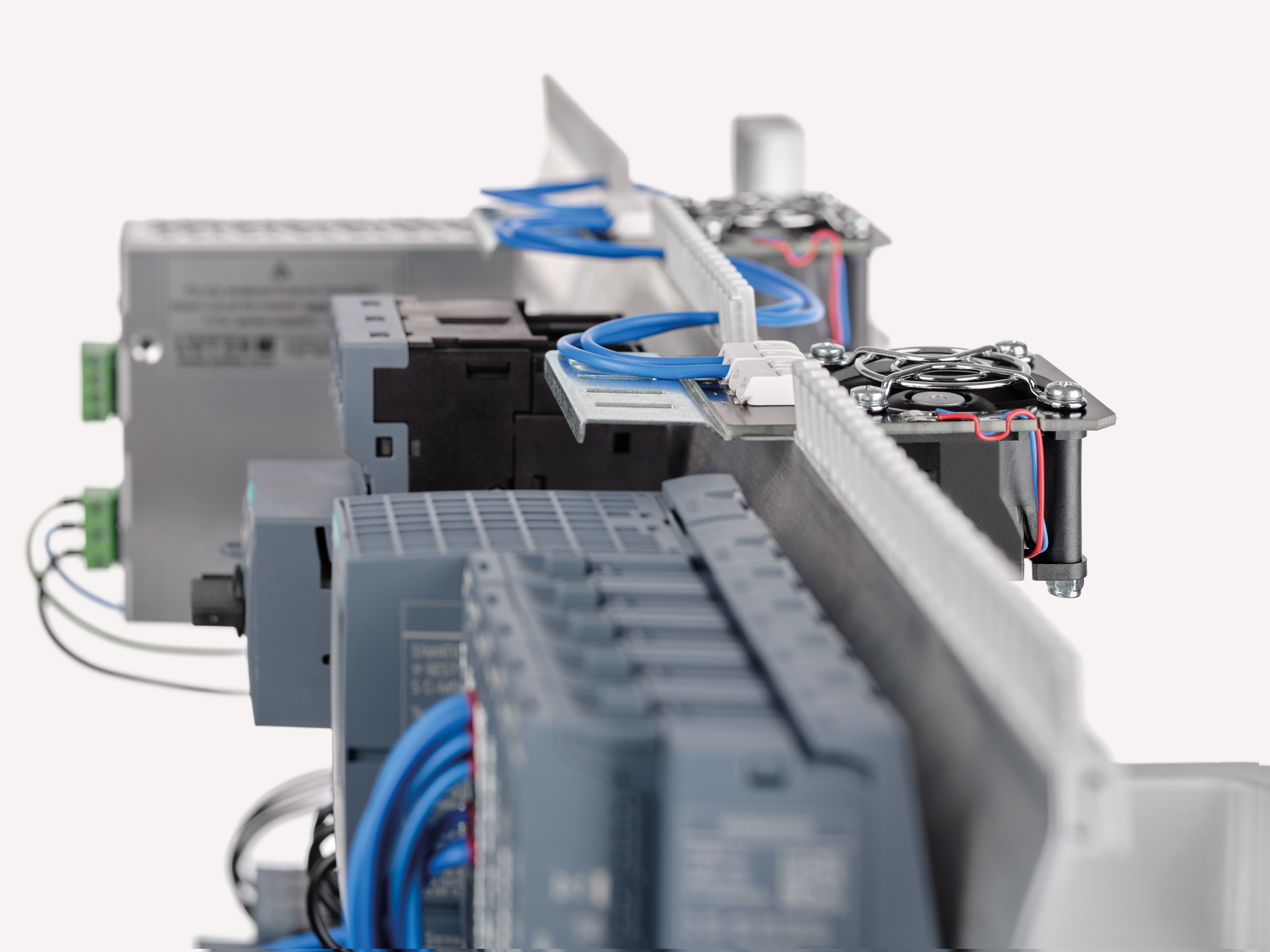 Figure: AirBLOWER Compact for energy-efficient and homogeneous control cabinet climate in small control cabinets and switchgear enclosures
The ready-to-install AirBLOWER Compact fans can fully unleash their potential when used in compact enclosures and switchgear cabinets on the AirSTREAM Compact frame with its reduced installation depths. 
The industrial-grade AirBLOWER Compact fans can be installed during the initial setup or retrofitted into existing control cabinet configurations. Mounting the 50 mm wide AirBLOWER Compact is a simple process thanks to a patented solution: Firstly, a 50 mm standard comb segment is removed, and then the AirBLOWER Compact Fan is snapped into the recess. 
AirBLOWER Compact fans are UL and CE certified and have a power consumption of 6.9 watts at 24 V. The Compact fans have a terminal for connecting the input voltage and another for daisy-chaining to the next fan. This allows up to five AirBLOWER Compact fans to be connected in series. The voltage supply is direct through the circuit board, and the terminals are easily accessible from the front. 
Two, to a maximum of five AirBLOWER Compact fans are controlled using the LCOS-AB-I control unit in conjunction with up to 3 PT100 temperature sensors. Programming is performed via a standard interface I/O link via FDT/DTM. All parameters can be defined freely: from the temperature control through to clock mode. The operating hours meter records all work parameters. All AirBLOWER Compact fans have undergone extensive testing in climatic chambers. The service life during continuous operation (365 days at 40 °C) is guaranteed to be at least 7 years.
Characters: 2,572