17.09.2019 | 230V socket plus USB charger ports | 
Art. No. 810022/810023/810024/810025
100 % rail-compatible 230 V socket with two integrated USB charger ports
Rail equipment specialist LÜTZE Transportation is the first supplier to offer passengers a space-saving and easy-to-install VDE-tested socket with an integrated USB charger.
Thanks to the VDE-tested socket by LÜTZE TRANSPORTATION, it is now possible to charge two mobile end devices via USB at the same time as providing power for a laptop for example. The two USB charger ports provide a charging current of 1.2 A each at a total of 12 W. If just one of the ports is used, a charging current of 2.4 A is available. By means of dynamic recognition of the charging protocol, the power needs of the connected mobile device, be it a phone or tablet, are recognized and the charging current is adapted efficiently. The socket is connected and installed using a double cage clamp connector and manual lever in just a few simple steps. The USB charger ports use less than 50 mW in stand-by mode so that the on-board supply of the rail vehicles is hardly loaded. For a high-speed train like the ICE3 with 460 seats, this equates to a total consumption of just 23 W.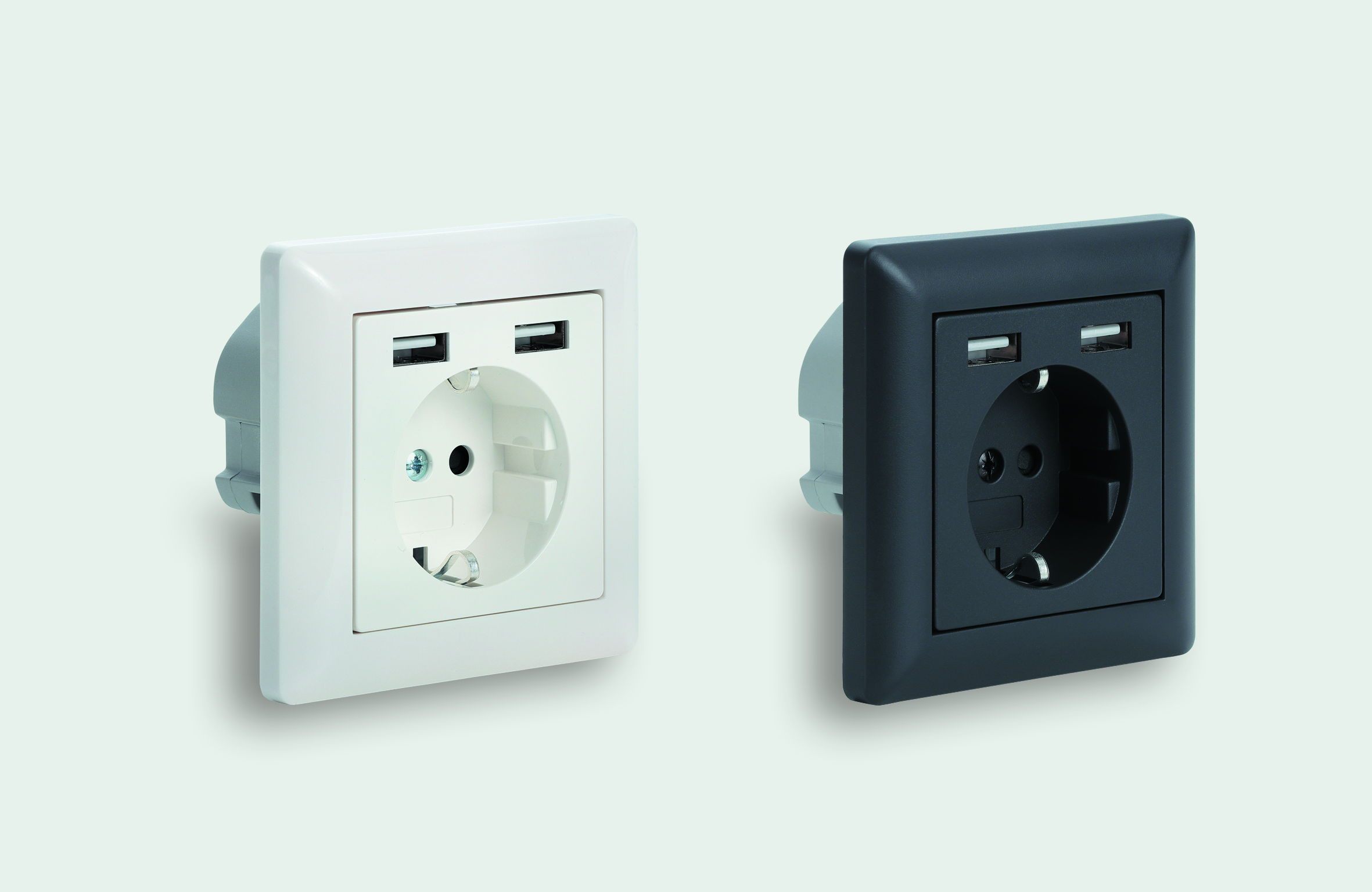 Fig.: Rail-compatible 230 V socket with two integrated USB charger ports
The socket with two integrated USB charging ports not only fulfils the VDE 0620-1, but also all rail-relevant specifications with respect to vibration and shock loads, EMC safety and fire behaviour pursuant to EN 50155, EN 50121-3-2, EN 61373 and EN 45545-2. The possible temperature range is -25°C to +55°C during permanent operation. The Schuko socket and the two USB charging ports are designed to complete at least 5,000 connection cycles.

The socket has a mechanical shutter to protect against accidental contact. Due to the shallow installation depth of just 32 mm, the socket can be simply integrated into seating units or the wall. The LÜTZE TRANSPORTATION socket corresponds to the connector configuration type F/CEE 7/3 (SchuKo) that is widely accepted in Europe; the 230 V socket with the connector configuration type E for use in France, Poland and The Czech Republic. LÜTZE TRANSPORTATION supplies the rail-compatible socket in two colors: pure white high-gloss or anthracite. A cover frame in matching colors is also available as an accessory.
---
Characters incl. spaces: 2.568