23.09.2020 | LÜTZE Input Output Network - LION microPLC-CAN | LÜTZE TRANSPORTATION | Art. No. 802201
Programmable logic module for rail vehicles
The rail technology specialist LÜTZE TRANSPORTATION presents the LION microPLC, an inexpensive logic module for decentralized applications on rail vehicles. An IEC 61131-3 development environment is available.
The new LION microPLC is suitable for flexible and inexpensive installation of decentralized logic units and can be used, for example, to monitor doors, lights, or public announcement systems on rail vehicles. LÜTZE engineers specifically designed the LION microPLC for rail vehicle manufacturers for whom it would not be viable to invest in large control technology or modular control units. The LION microPLC offers high-performance fieldbus interfaces via CAN2.0, Ethernet TCP/IP, UDP and RS232. The input/output module has a total of 16 digital and 2 analogue inputs and 8 digital, as well as 1 analogue output. Power is supplied via the on-board 24 Volt power network.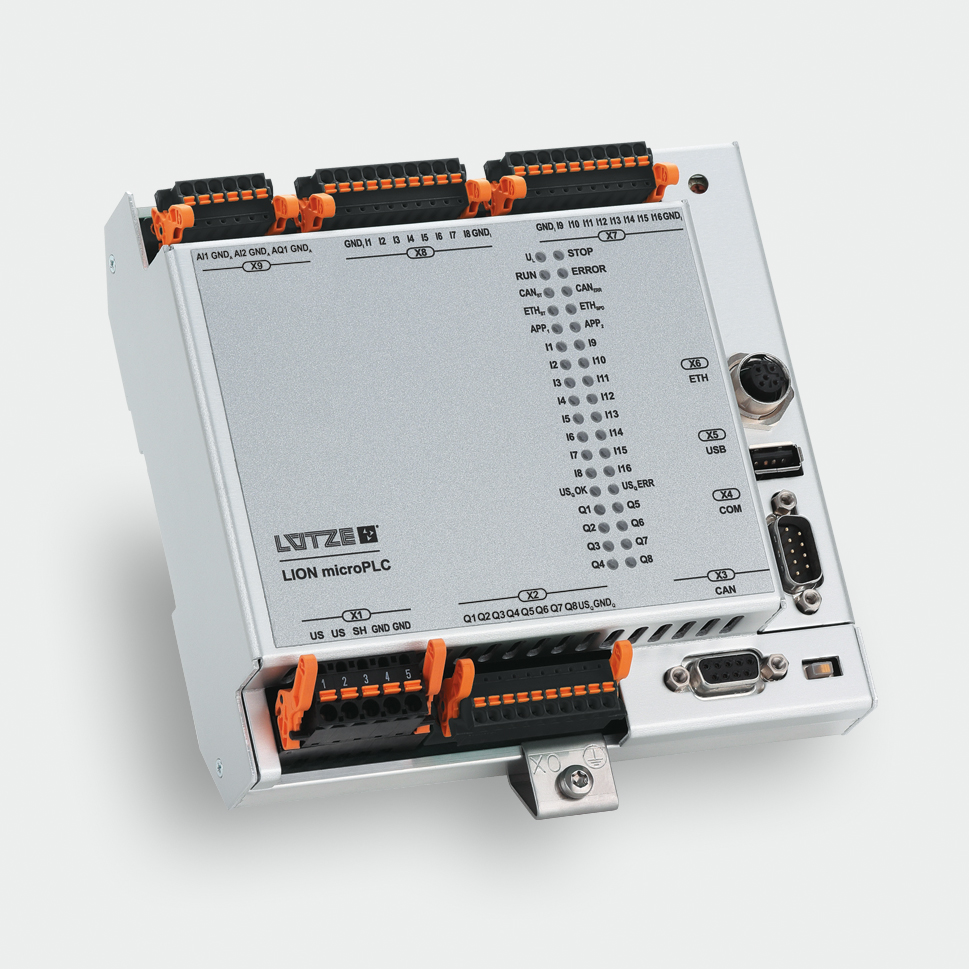 Fig.: The LION microPLC is an inexpensive logic module for decentralized applications on rail vehicles.

The LION microPLC is suitable for a wide range of tasks on rail vehicles, wherever decentralized logic is sufficient or even beneficial. Possible decentralized application options include controlling and monitoring of doors, lights, public announcement systems, toilets, compressed air, sanding systems or pressure sensors. Here, the microPLC can be used to program specific instructions independently of the general control unit. One advantage of this is that if changes need to be made, the entire control unit does not need to be reprogrammed. Also, entire applications, e.g. a complete toilet, can be produced and supplied by rail technology suppliers in a Plug-and-Play model including a microPLC control unit.
Rail-compatible technology
In addition to the bus interfaces CAN2.0, Ethernet TCI/IP and/or UDP/IP, the LÜTZE microPLC also has an RS232 communication port that can be configured to RS485 or RS422 as required. An USB interface will be available shortly.
Internally, all processes of the LION microPLC can be controlled via the real-time operating systems, Soft-SPS and ProCon OS. To allow programming, the IEC-61131-3-conform Multiprog Express development environment is included with the purchase of the component. Programs can be filed in the shape of instruction lists (AWL), as structured text (ST), a contact plan (KOP) or a function block diagram (FBS).
The LION microPLC is 100% suitable for rail applications and fulfils all norms with regards to vibration and shock loads, and EMC safety and fire behavior according to EN 50155, EN 50121-3-2, EN 50124-1, EN 61373, EN 45545-2 and the EMV06. The IP20-tested microPLC by LÜTZE can be operated permanently in a temperature range of - 40 °C to + 70 °C. It is installed on the hat rail.
---
Characters: 3,062 incl. spaces from bottom of page